---
Start Time
End Time
Event
Details
All Day
1 Billion Rising- WISE
WISE (Women's Information Services of Big Rapids) joins global campaign- one billion rising to stop violence against women and girls. This day will be the largest day of auction. At the Gypsy Nickel Lounge in Big Rapids, beginning at 5:30pm, WISE wil join with activists around the world for ONE BILLION RISING, the largest day f auction in the history of V-Day, the global activist movement to end violence against women and girls.
8:30AM
11:55PM
Annual Mecosta County Hair Harvest
Please Support The Annual Mecosta County Hair Harvest Feb. 14th to March 1st. Wanted Donated Ponytails "10 inch in length ("8 inch can be used) Specials deals on cuts, styles, or product??? Ask your Hairstylist The hair that is collected is used to make wigs for children with any affliction that causes hair loss. Sponsored by Ferris State University Circle K a Kiwanis organization and your Salon. For more information call 231-250-9892 or 796-7000.
---
---
---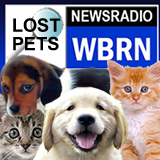 Click here for the WBRN-AM Lost Animals page